Special Exhibit:
RS One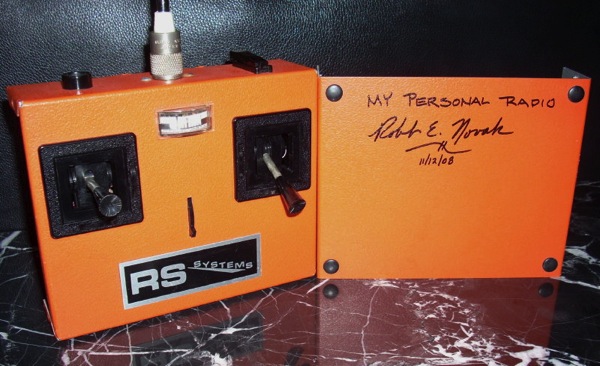 (Click on any of the images on this page to see a larger version)


Whatever plane the President of the United States flies on is designated Air Force One. Whatever radio the President of RS Systems flies may similarly be called RS One. This was Bob Novak's personal RS. Bob was the President and owner of RS Systems in the 1970s. This radio was not only owned by the Company's President, he also personally designed it. The design was advanced, with numerous Mil-Spec components, gold plated connectors, a unique co-axial antenna and the smallest receiver and fastest servos in the world.

RS One.

Today, Bob Novak is better known as the President and founder of Novak Electronics. Novak Electronics leads the RC car industry. The Company has won more IFMAR world titles than any other, and established a record that may be impossible to beat. After more than thirty years in the business, Novak Electronics has achieved something else—something that virtually all other U.S. RC manufacturers failed to attain--Longevity. And Novak accomplished this without resorting to offshore production.


To this day, all the Company's products, from receivers to speed controls, are designed, manufactured, repaired and marketed out of its California facilities. Among the secrets to Novak's success are employment of robotic production, degreed engineers instead of tinkerers and a staff of experienced RC racers. Novak Electronics is a major figure in its industry and a genuine American success story.


But its origins are more humble, and they take us back into the history of radio control.




The Beginning


In 1943, Bob Novak's dad introduced him to modeling, mostly planes and trains. After years of U Control and free flight models, Bob tried radio control in 1956. His first plane had an Aerotrol radio with a rubber band powered escapement to turn the rudder. Like most radio "controlled" flights back then, Bob's first went badly. The escapement locked and the plane crashed. Did this disasterous start discourage him or divert him to other hobbies? Hardly. His surprising reaction to this set back says something about the man:

"From that day forward I was really hooked on RC and I knew that this would be the path that I would follow for the rest of my life."

After earning a degree in Electrical Engineering from Iowa State University in 1968, Novak sent his resume to all U.S. radio control companies. Not one even responded. Bob was forced to take a "Real World" job, and moved to Illinois to work for CTS Knights, a crystal manufacturer.


Micro-Avionics


Soon afterwards Bob was assigned to solve a crystal problem for one of CTS's customers. The customer turned out to be an RC company, of all things, called Micro-Avionics. The head of Micro-Avionics was Don Mathes. Novak needed no introduction since Mathes was a central figure in RC history and development. He helped Doug Spreng invent the world's first digital proportional system and left his tracks throughout the RC radio world in the formative years. See, for example, First Space Control, First Deans, C&S One and First Kraft Proportional exhibits.

Despite all his RC expertise and experience, Mathes was stumped by his crystal problem. After he explained it to Bob Novak, however, it took Bob "all of five minutes" to devise a solution. Mathes was so impressed he offered Novak a job on the spot. This is what Bob had wanted all along so he accepted and moved his family to sunny California.


Micro-Avionics was a secret subsidiary of Orbit Electronics set up by Orbit Chief Bob Dunham in 1965 to expand Orbit's success into new lines and price points. This arrangement resembled Kraft's formation of PCS, with two differences.


First, PCS employees were literally on the payroll of their sponsor company (Kraft) and the relationship with Kraft was soon divulged to the public and stated in advertisements. Micro-Avionics, by contrast continued to hold itself out as a separate company for years such that even employees like Bob Novak didn't know. Secondly, Micro-Avionics did its own engineering and design to a greater degree. They even made a 25 channel system for NASA. Micro-Avionics was in fact more independent and Mathes may have owned a noncontrolling interest for a while (research continues).

Doug Spreng had ended his brief association with Micro about a year before Novak was hired. The Company really needed his expertise and valued how Novak actually had a degree in the field, unlike many other RC pioneers who were self taught. So Bob's first assignment was a big one. He was asked to completely redesign the Micro-Avionics system using integrated circuits to reduce its complexity, size and weight and boost its well-established reliability to a new high.


XL-IC


Less than a year later, Bob completed the task and Micro-Avionics introduced the XL-IC to the radio control world. The IC stood for integrated circuits and here's how it looked (Jun 69 RCM):


The highlights of Bob's XL-IC were its airborne weight of only 9.5 ounces (down from the XL's 15 ounces) and its very small servos. Micro-Avionics was able to boast that its airborne system was the lightest, and its servos the smallest, of any manufacturer anywhere in the world.

The XL-IC had a very turbulent start. Soon after the first radios were shipped , Micro-Avionics was shaken by angry customer reports of crashes. After a lot of anxious trouble shooting it was discovered that the fault was not with Bob's design but with the ICs themselves. Motorola plastic molded ICs were used as a brand new, less expensive alternative to metal or ceramic encased ICs. Unfortunately, they had a moisture contamination problem after the ICs were in the field. Motorola was honest about the defect, and its engineers spent many days in Phoenix with Bob until a solution was found. After that, the XL-IC was a success as evidenced by the following review.




Here's a product review of the XL-IC (Oct 69 MAN); note that the author says "the biggest problem will be keeping the receiver from slopping around, its that small:"

Bob Novak would carry the tradition of small receivers and servos over to RS as you will see below. Although he didn't know it, events were taking place which would lead to his ouster from Micro -Avionics and land him at RS.


On May 1, 1969, Orbit announced that Datatron had agreed in principle to acquire Orbit and its wholly-owned subsidiary Micro-Avionics. Two years after that Datatron sold the companies to Charles Speer, a business management consultant. These transitions are marked by Orbit advertisements adding "a Datatron Company" starting in 1969 and then going back to just "Orbit Electronics" after Speer took over in 1971. Orbit's catalogs had this sticker placed over "a Datatron Company":


What happened next, it appears (research continues), is Mr. Speer decided to restructure Orbit by eliminating the "redundant" staff at Micro-Avionics. In late 1971, Bob Novak, Don Mathes and other Micro personnel, were let go.


Larson Electronics—5RS


RC great Howard Bonner decided to retire in mid 1969 and sold the assets of Bonner Specialties at auction. Bonner had thought about retiring for some time, and then competition grew more severe, traditional profits from the sale of reed and single channel servos melted away and the company was even sued for patent infringement concerning a late-model servo. The clincher was the chronic crashes of his 4RS and 6RS systems due to a single tuning capacitor which worked fine in California but would malfunction in states with higher humidity. By the time Howard solved this mystery the damage to his Company's reputation and his health (he was chain chewing ulcer tablets) was too great and he needed to get out.

In July, 1969, the now defunct Bonner Specialties announced that their top engineer, Gordon Larson, would be the "official service station" where modelers could send any Bonner equipment for repair. Gordon was the engineer for the historic Bonner Digimite (see Prototype Bonner Digimite exhibit) and also designed the ill-fated 4RS and 6RS. The "RS" stood for real small and it wasn't long before Gordon decided to manufacture his own line of radios. He decided to stay with the "RS" name but made a five channel system (5RS) with bright orange color, racing stripes, and Rand stick assemblies. Larson used the same transmitter RF section as Bonner, since it already had FCC certification.


Here's the first ad for the 5RS and its new manufacturer, Larson Electronics (April 71 AAM):

Here's Gordon Larson promoting his new system at a trade show (Apr 70 RCM):


Like Micro-Avionics before it, Larson Electronics claimed to have the smallest, lightest system in the industry. When evaluating such claims by these and other companies it is critical to note what size battery pack they are assuming. If one specifies a 500 MAH pack and another a 225, you are not comparing apples to apples.


Series 2000
In July 1971, this ad in American Aircraft Modeler introduced Larson's new model—the Series 2000:


The chief advance was a new transmitter with Kraft-Hayes stick assemblies and a simpler, single circuit board incorporating the RF section without shielding. Bob Novak may have been involved with these updates, but this is uncertain at this time. Here are two actual Series 2000s from our museum, inside and out. The one with a toggle switch is a 6 channel radio, and the switch was used for nonproportional functions like flaps or retracts. Note that the label and circuit board clearly mark the system as a Larson Electronics product.

Novak Takes Over


By late 1971, Gordon Larson had grown tired of juggling this side business with his day job, and he sold Larson Electronics to Bob Novak. The above ad for the Series 2000 continued to run through June of 1972, however, due to pre-purchased advertising. Bob Novak used this period to sell the remaining Larson Electronics inventory and design a new and improved system.

At first, Bob continued to use the same transmitter with the 5RS insignia on the outside and the "Larson Electronics" circuit board inside, probably until the existing stock was exhausted.


His servo design, however, was completely new and raised the bar for the entire industry. Novak was an avid Formula One pylon racer and he yearned for servos which operated much faster. Other flyers remember him saying "If you pack in one of these" (pointing to a pylon plane) "you have to replace the whole airborne radio as nothing is usually left that is recognizable, it's a total write-off!"

So Bob Novak got together with former Orbit employee Dick Rehling and designed a very fast and powerful servo they called the LDR-1. LDR stood Larson Dick Rehling. This servo used mechanics from the D&R Company owned by Dick Rehling. Electronically, it incorporated a Schmitt trigger and 2 additional transistors to achieve fast, smooth operation in both directions without "stepping". This servo set a standard that other manufacturers strove to equal.


Here is a product review of Bob Novak's improved 5RS (Jan 72 AAM):


Bob Novak now had the smallest receiver and fastest servo in the business. Next he introduced a single stick transmitter. He also changed the name of the Company from Larson Electronics, RS Systems Division, to simply "RS Systems."Here's the first advertisement for RS Systems and its new, single stick transmitter (Jul 72 AAM):

One month later RS introduced a three channel system with the smaller LDR-2 servo (Aug+Sept 72 AAM). Note that the "5RS" nameplate was still used on the transmitter, a remnant of Larson Electronics which made little sense on new systems ranging from 3 to 6 channels, and was about to go.

The next month this advertisement appeared with the new "RS Systems" logo which would be used until a more stylized version was introduced in 1975(Oct 72 AAM):


Third Generation RS
By now Bob Novak had completely redesigned and improved the system and Radio Control Modeler reviewed it in this December, 1972 article:


Highlights of the new system included numerous Mil-Spec quality components, all silicon semi-conductors for temperature immunity, and the lightest airborne equipment and best servos available anywhere. The reviewer also remarked on how the co-axial antenna terminal improved performance and reliability and that RS was the only manufacturer to use one. This feature was carried over from the Larson days and was pioneered by Gordon Larson on the Bonner 4RS and 6 RS systems and even some earlier models. It may have been unique due to male-female connection and heavy duty components but other manufacturers had co-axial antennae.

Here is an actual third generation RS 3 channel from our museum and a never-used 6 channel, 2 stick transmitter and single stick transmitter, for comparison. Note that this generation returns to the conventional separate RF circuit board and is thoroughly re-engineered and re-configured.


Distribution, Discounting And Guarantees
Although the RCM review referred to limited production and individual customizing, RS also pursued a broader market, and higher volume sales at this time. Here is an ad illustrating how this was attempted with distribution by Hobby People and a hefty $100 discount in price(Dec 72 RCM): Note how Hobby People mixed up the pricing (e.g. 3 channel price for 6 channel).

This later ad corrects the pricing errors but maintains the discount (Apr 73 AAM). It also proclaims a remarkable warranty including upgrading after 1 year for $25 and even replacement of crashed airborne systems for only $25!

New Sticks & Ads
With this New Product Report RS Systems introduced their new D & R open gimbal stick assemblies (Jun 73 AAM):


This was followed by these ads touting the new stick assemblies and gum pack size receiver, and a product review by Jim McNerney (Jul, Aug and Nov 73, AAM):

Here is a subsequent ad stressing reliability, service and RS' amazing guaranty (Nov 73 AAM):

Next, RS took out a full page ad juxtaposing an RS radio and Rolls Royce grille, which recalled Kraft's similar ad with a Lincoln grille in 1969 (Feb 74 RCM).
In addition to making a visual statement about quality, this ad was intended to presage a new more advanced RS System to be reviewed in Radio Control Modeler the next month.

Fourth Generation RS—The 1974 RS


After a stint with MRC in New Jersey, Don Mathes was hired by RS as production manager and designer, to help Bob Novak take RS to the next level electronically. Their roles were reversed as Bob was the boss now, but they shared a vision about how much better the next generation of RC radios could be.

Back in their days together at Micro-Avionics they often discussed how potentiometers, in both transmitters and servos, had been a big problem for all manufacturers since the dawn of proportional. To solve the wear and reliability problems, they had the Bourns company manufacture thick film conductive plastic potentiometers to military specifications. These new pots had 2 huge advantages—they didn't wear out or require cleaning. RS had such confidence in these new pots that they guaranteed them forever.

Another innovation was a "totally integrated module" concept using plug- in encoder and RF boards plus plug-in stick and harness assemblies. Service was thus enhanced since, when a component went bad, it could simply be unplugged and a new one plugged in. Sampey first attempted this in their Starlight 500 system back in 1965, but it proved more expensive than practical (see Sampey history).

This modular approach also made it possible to change frequencies by plugging in different RF and receiver boards. RS dubbed this "Q.C.F." for quick change frequency. Other improvements included enhanced electronic components such as TRW transformers said to cost five times more than imported counterparts, and use of integrated circuits throughout the complete system.


RS ran this teaser ad announcing that Novak and Mathes were back together and had designed a major new system which would soon be unveiled (Mar 74, RCM). This ad was probably intended to go in an earlier issue of Radio Control Modeler since the March, 1974 issue actually revealed the secret and disclosed the new radio in this product review (Mar 74 RCM):

These are selected pages from the Owner's Manual for the 1974 RS, including a revised Guarantee and the frequency changing procedure:

RS touted the advanced features of their 1974 RS receiver, servo and transmitter in this advertising trilogy (Apr, May and Jun, 1974, RCM):

The Fourth Generation RS had so many advanced features that RS was able to claim, with credibility, that it was a step ahead of its competition. This footprint on the moon ad ran for many months (Jan 75 RCM):

Here is an actual fourth gen 1974 RS, from our museum. This one belonged to Frank Kagele who helped Gordon Larson engineer the Bonner Digimite radios and first RS systems.

This is a single stick 1974 RS, for comparison:

New Arrival


At the March 1975 Westchester, N.Y. "WRAMS" trade show, RS introduced its new 2 channel system. Its transmitter was much smaller than the others, it merged the 2 servos into a receiverless "brick" unit and its D & R open gimbal was sealed. The new open gimbal functioned like its predecessors giving the smooth control which caused flyers to prefer this mechanism over closed gimbals. But the gimbal mechanisms, while open to the elements at the front, were enclosed in their own case at the rear so dust or rain, for example, could get into the gimbals but not inside the case and onto the electronics.

Here is the first advertisement for RS's new "baby" complete with baby clothing and a rubber duckie (Apr 75 RCM): And here is the brochure for this new arrival:

Fatal Partnership


To grow his business, Bob Novak decided to take in a partner in late 1973 or early 1974. The partner provided financial and business support only and had no expertise in the RC field. But money talks and the partner was able to get a majority, controlling interest in return. This proved to be a mistake Novak would later regret, and never make again.

The first evidence of the partnership is at the bottom of the March 1974 ad shown above (the one with the secret in the box). Notice how the address of the Company has changed to West Barkley street, Orange, California. This move increased the size of RS' production facility and was close to the new partner's other business.


Then, sometime in mid-1975, it happened. Jim Burlile, who had recently left Orbit to work at RS, will never forget. He recalls that , while Bob Novak was on vacation, his partner closed RS and fired Novak, Mathes, Burlile and everyone else. Here is the last ad for California-based RS, prepurchased before the shut down (Sept 75 RCM). After this, all RS advertising fell silent.

Tech Serv Era


The closing of RS was done in so that Novak's partner could sell the business to Tech Serv in Beltsville, Maryland. Beltsville is a Washington, D.C. suburb, and Tech Serv's main interest in RS was
to acquire state-of-the-art radio technology and systems to sell to the military for drones.


Some of Tech Serv's RS drone radios used the stock transmitter without change, and the airborne components also unchanged except for being mounted in a brick like this one.
Others were as different as this.

Tech Serv wanted to continue to sell RS systems to the modeling market as well. This June, 1976 RCM ad marks RS's return to marketing in the model aircraft market: Note how this ad explains the transition to Tech Serv and production in Maryland. Here is Tech Serv's brochure and price list issued about the same time as the above ad was purchased:

It appears that Tech Serv never developed any new or improved systems for modelers and abandoned the market less than a year later. This may be their last ad (Mar 77 RCM):

Epilog


One of the best and most advanced RC lines in the industry simply faded away. Bob Novak had to start all over with a new company called Novak Electronics . He began at the bottom, initially operating out of his garage.

And this time, no partners.