Special Exhibit:
Royal One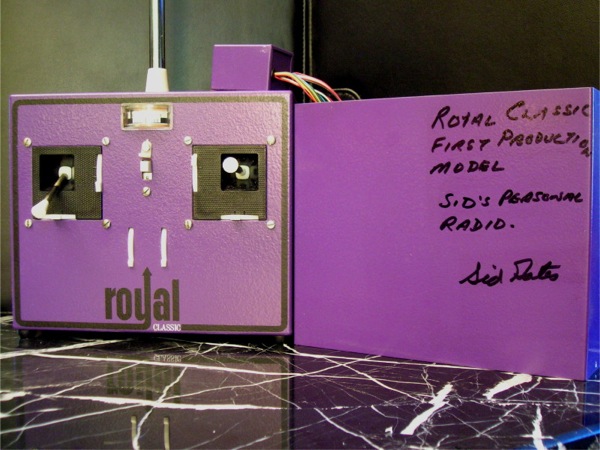 (Click on any of the images on this page to see a larger version)


Whatever plane the President of the United States flies on is designated "Air Force One". Whatever Royal radio the President of Royal Electronics flies may similarly be called "Royal One".

This was the personal Royal Classic of Sid Gates, President of Royal Electronics. The Classic was the first radio control system ever made by Royal Electronics, one of the leading US radio control manufacturers from 1968 to 1983.

Royal Electronics Corp. was formed in early 1967 by Sid Gates and Ron Murray. Murray owned Royal Products, which imported RC equipment from Japan and Europe. Royal Electronics, by contrast, manufactured and distributed radio equipment made in the U.S.A. Gates and Murray each held 50% of the stock of Royal Electronics but Murray was a "silent partner" leaving the entire operation and control of this corporation to Sid Gates.


The Right Stuff
Sid was a high school basketball star who wanted to become an electrical engineer. However, his best basketball scholarship offer came from a business school so he ended up with a business degree. This no doubt helped him build Royal into the major business enterprise it became, but he never lost his love for electronics. Like other RC pioneers he had a natural aptitude and self-taught ability enabling him to succeed in electronic design without a degree.


He was also an extraordinary pilot who personally test flew each Royal Classic system before it was shipped to the customer. In 1956, he rose to the pinnacle of the aviation world by becoming a military jet pilot flying full scale supersonic jets. Here is a picture of Sid with his F-94C.

Fifty years later Sid was still flying jets – RC jets that is – something only a tiny percentage of RC flyers are capable of. With his basketball player height of 6'2", his aviation achievements and his reputation in the business, Sid Gates was looked up to by industry leaders in more ways than one.


Royal Confusion
The Royal Products / Royal Electronics distinction was not always clear to outsiders. Here is an advertisement for the well-known Royal
Products
servo, Feb 65' RCM.


These servos were imported from Japan where they were designed and manufactured by the Kato brothers and their MK Products Company. These familiar actuators had nothing to do with Royal Electronics or Sid Gates and no relationship except the common Royal name due to the (partially) common ownership interest of Ron Murray. To further confuse matters, the first products sold by Royal Electronics were F&M systems, designed and formerly manufactured by Frank Hoover's. F&M Electronics Company in Albuquerque, New Mexico. Royal was actually the third owner of this line.

In 1964 F&M assigned all rights to its single channel systems (including galloping ghost) to its "eastern division", Aero Model Supplies in Attica (Mansfield), Ohio (December 64 MAN). F&M continued to design, manufacture and distribute its multi-channel reed and proportional lines (Matador, Digital-5, Digital-3 and later, Quasar). In early 1967 Aero's owner had health problems and sold the F&M single channel business to the new Royal Electronics company. After distributing the existing stock of F&M units, Royal proceeded to manufacture F&M systems at its Denver, Colorado plant.

Here are advertisements illustrating the Royal Electronics' takeover of the F&M single channel line:



Here are actual transmitters in our museum evidencing the change from New Mexico to Ohio to Colorado manufacture (the latter deleting the address of manufacture altogether).



Here is the March 1970 MAN plant tour of Royal Electronics and Royal Products:

Magazine Mention
Having secured the F&M single channel business, Gates turned his attention to the first Royal Electronics radio to bear its name – the Royal Classic. The Classic was launched from the pages of RCM magazine. In 1965 and 1966, RCM ran a popular and successful series of articles on how to build the Digitrio, designed by Ed Thompson. By 1967, Thompson and RCM were eager to do it again with a more advanced design.

RCM agreed to run articles on the new radio called the "Classic" or "RCM Classic". Gates and Thompson agreed that Thompson would provide the circuit design and schematics in return for a royalty (yes, "Royal" royalty), and Royal Electronics would do the design layout, cards, prototypes and fabrication and produce kits to be advertised in RCM.


Here is the first article in the series of eleven published by RCM on how to build the Classic (April 68 RCM). Throughout the series the system is referred to as the "RCM Classic". In the initial article the transmitter and other components have blank faces with no mention of "RCM", "Royal" or even "Classic". This article also mentions that "Royal Electronics has agreed to provide all parts for the system that may be difficult to obtain elsewhere".


Here is the second RCM article on the Classic (May 1968). This issue included a full size drawing of the PC board for scratch builders. However, in this same issue Royal Electronics ran the following ad for the "Classic designed by Ed Thompson", offering kits ranging from $32.95 to $121.95 for a complete 6 channel kit. These kits were for the transmitter only. Its case had no identifying lettering but it was vinyl finished in Royal purple.

In July, 1968 Royal Electronics ran this ad for the "Royal Classic Receiver kit" designed by Ed Thompson. The ad makes a dramatic size comparison to competitor' kits.

In August 1968 Royal ran this ad for the "Royal Classic Digital Kit System". This ad mentioned Ed Thompson and RCM but the transmitter was now clearly marked with the Royal logo. Notice that buyers are given a choice of sticks and an option to buy factory built Classics.


By installment X, in the January 1969 issue of RCM Ed Thompson was clearly irritated by a flood of calls, questions and complaints over the prior months. His remarkable preface to this installment was bursting with personal reactions including it would "asinine" to assume the Classic is "the best system in the world", and "equally asinine" to assume it is a "tinkerer's delight" which won't compare favorably to manufactured systems when properly built. On this latter point he noted there were hundreds of parts and solder joints in the Classic and any one could cause trouble if done wrong or not maintained right. He suggested builders get help from electronics experts in their area, mentioned that Royal Electronics stood ready to checkout and repair any units "built according to instructions" and advised those who still lack confidence in their systems to "unload" them and do everyone a favor.


Royal Electronics ran one more ad for the Classic kit, focusing on the servo (April 1969) and then in May of 1969, a different ad appeared stressing competition victories of the Classic system and dropping any mention of kits. After this, only servo kits were mentioned in ads until this ad appeared in the February, 1970 RCM offering Classic kits at discounted prices.
This ad continued to run until the end of 1970, even after introduction of the new Royal Classic 70 model (also offered either in kit form or factory assembled). The 70 series circuit was designed by Bob Boyce and Chris Pedersen. Both worked nearby at Martin Marietta – Denver designing the Command Destruct systems for US Air Force Titan missiles. Here's how the Royal Classic ad looked (June 1970 MAN):

And here is the very first Royal Classic 70, the prototype as it appears today in our museum:


Notice how the prototype was finished in a dark, navy blue vinyl. This color material became unavailable and that's how Royals came to have their familiar sky blue look. Royal Electronics continued to offer the Classic 70 in kit form through the first half of 1971. After July 1971 both Royal Classic 70 and Royal Apollo systems were advertised, but only as factory built units, not kits. Years later Royal would resume selling kits with its "Tech RC" line.