Special Exhibit:
S&O One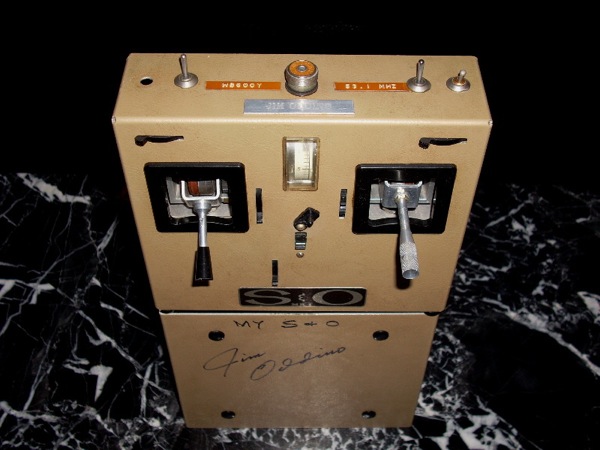 (Click on any of the images on this page to see a larger version)


This was Jim Oddino's personal S&O. He co-owned S&O with Bill Salkowski. Salkowski & Oddino, S&O. Both were top contest pilots, regular contenders at such venues as the Tournament of Champions. Oddino was also a well-known authority on the hobby with monthly columns in leading model publications for over ten years. Note the aftermarket stick on the right. This reflected Oddino's preference for a longer knurled stick since he grasped it rather than using his thumbs.

S&O One.


Rave Reviews

The best seek the best, looking for any edge in the competition. Oddino & Salkowski thought they could do better than the top systems of their day by eclectically combining the best of each and then adding further improvements. They started with an advanced receiver and servos in January 1970 and then began making their new transmitters in October 1970.

It was a bit nervy to think they could make a better product than established manufacturers at a time when proportional control had advanced so far as to be viewed as "perfected". Radio Control Modeler magazine (RCM) remarked in its March 1972 review that "…it would seem almost impossible that a new company could come on the RC market with a radio so precise and so well constructed that it virtually has no peer". (Mar 72 RCM)


Renowned pilot, scale master and kit maker Joe Bridi always had to have the best RC equipment. He chose S&O and told RCM that switching to S&O makes it necessary for a pilot to learn to fly all over again to develop the finesse necessary to fully utilize the potential of a radio offering this level of control and precision. Joe Bridi flew a single stick S&O, and here's how it looks today in our museum:

Another compliment came in the headline to RCM's review when they labeled it "one of the most highly precise proportional systems we have ever tested".
But the greatest tribute, one hard to beat, was when RCM's conclusion dropped the "one of" qualifier. Remarkably, they said flat out that S&O was "the finest digital proportional system we have tested to date". Not "one of" the finest,
the
finest.

Their Secret

So how did Oddino and Salkowski do it? Both were graduate engineers with backgrounds in aerospace and many years' experience with radio control at the highest levels. In addition to combining the top features of other systems they would substitute higher quality components even if that level of quality was too expensive for mass production. They didn't care. They decided early on to try to be the best, not the biggest.

They never advertised and had no sales brochures, relying instead on word of mouth from giants like Bridi. They carefully hand-made and tested every system. The only way to get one of these hot new radios was to go on a waiting list. The waiting list symbolized S&O's coveted status, its desirability and cache, but it would ultimately lead to the system's demise.

Among the advanced features Oddino and Salkowski borrowed from other manufacturers were the bridge amplifier (3-wire servo), diode battery pack and crimped connector pins. They then:

Incorporated integrated circuits to reduce size and component count
Upgraded servos from Mitsumi to Furuichi motors
Used direct coupled sticks without slop, enabling sticks to move over larger angles for enhanced resolution and less sensitivity around neutral
Incorporated a variable frame encoder to maximize information rate to the receiver
Installed Allen Bradley control pots for smooth stick feel and infinite resolution

Pioneered elegant cosmetic touches like hiding the screws and nuts which hold the gimbals and sticks

Developed their own unique sticks and gimbals
They limited themselves to making airborne equipment and didn't even try to do transmitters until they were able to produce gimbals and sticks surpassing the standard of excellence at the time – Pro-Line. Finally they came up with a set like no other made before or since. These were fabricated for them by Art Swift. He was good, real good, but took his time. The reason modelers had to serve so much time on the waiting list to get an S&O was the time it took have these quality gimbals and sticks made.


Ultimately it was this production delay that led to S&O's demise. The waiting list became unbearable. Pilots would just give up and take their name off the list after six months or so. Then one day Art Swift decided it simply wasn't worth the money to make those fine gimbals and sticks anymore. Oddino and Salkowski didn't see any other suitable supplier out there so they moved on to other things.

And S&O assumed its honored place in radio control history.