Special Exhibit:
Valley One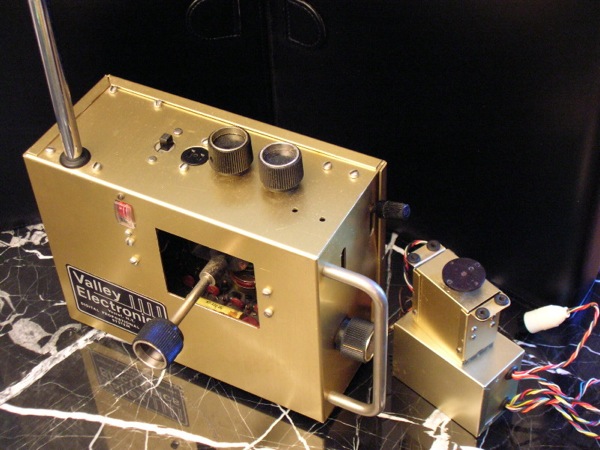 (Click on any of the images on this page to see a larger version)


Whatever plane the President of the United States flies on is designated the "Air Force One". Whatever Valley proportional the head of Valley Electronics flies may similarly be called "Valley One".


This was Ralph Jackson's personal Valley Digital Proportional. Valley Electronics was founded by Ralph Jackson and George Brooks in 1955. Their principal products were some early RC radios and the Robot Synchro actuators. These actuators provided proportional rudder and rudder plus elevator for early pulse proportional systems. They were highly mechanical, of a type known as "kicking duck" and were designed by Ralph Jackson, a mechanical engineer with IBM. In 1957 fellow club member Dick Allen flew a Robot Synchro to a first place victory at the Nationals (Class I).
Here is Ralph Jackson's personal Robot Synchro, or "Robot Synchro One".

ACL
In late 1961 Ralph joined with Glen Arnold, Bruce Blake and Bill Smail to form Airborne Control Laboratories ("ACL"). Bill Smail was responsible for electronics design, Ralph Jackson for mechanical design, Glen Arnold for assembly and Bruce Blake for procurement and general organization. ACL introduced its pioneering feedback proportional system in April, 1962.
ACL's design appears to have been influenced by the earlier Space Control system, including its incorporation of receiver and servos into an airborne "brick". Here's the first advertisement (April 62' A.M.)


In addition to being a top-notch engineer with one of the world's leading corporations, Ralph Jackson was a crack pilot and gifted modeler. He made a major mark on the airplane side of RC history as well as the radio side.


In 1963 he flew his ACL controlled Stark Shark to first place in the Nationals (Class II) and won fourth place in Scale with his 4 engined ACL-controlled B-24.
Here's Ralph holding his Stark Shark and ACL after winning the Nationals, and his article in the Sept/Oct 64' A.M. on his ambitious B-24 project:

DIGILOG
In February, 1966 ACL announced its new improved system – the Digilog VI.
They said this combined the respective advantages of digital and analog technologies, hence "Digilog".

Here is the February 66' RCM product announcement and a June 66' Digilog advertisement.

Here is the May/June 1966 A.M. article on Ralph Jackson's extraordinary Comanche, which featured flaps, landing lights and retracts utilizing all six Digilog channels:
Here are side-by-side comparisons of the Valley Digital and Digilog VI.

VALLEY DIGITAL MYSTERY
The main mystery surrounding Valley One is when was it produced? Some say it came before ACL since Valley Electronics preceded ACL and 4 channels usually came before 6. Others say it came later since it is in a Digilog VI case including cutouts for channels 5 and 6 and because digital systems generally came after analog.

Bill Smail is not certain since he left ACL shortly after developing the Digilog due to a job transfer to another state. However, he believes the Valley Electronics name was resurrected and continued with the Digilog system and the reduction to 4 channels was for cost reasons and to help overcome interference problems by using shorter transmission bursts.


We sent a series of internal and external pictures to Ed Rutherford. Ed is recognized as one of the preeminent experts in the world on vintage RC systems. After examining the pictures, Ed Rutherford said the Valley Digital Proportional – [appears to be a digital system produced
after
the Digilog]. This finding is supported by the fact that a four channel digital proportional system by Valley Electronics, Vestal, New York was announced by American Modeler in late, 1966 (Dec 66' AM):


This documents that the Valley Electronics name was revived after ACL, and that they made a four channel digital proportional. This system may have been the 2
nd
generation Valley Digital with the increasingly popular dual stick configuration and less expensive Bonner sticks, produced after they used up the remaining Digilog cases and parts. Or maybe the Bonner stick version came first since it was introduced just months after the Digilog VI? Some mystery remains.